Prevent Identity Theft While Traveling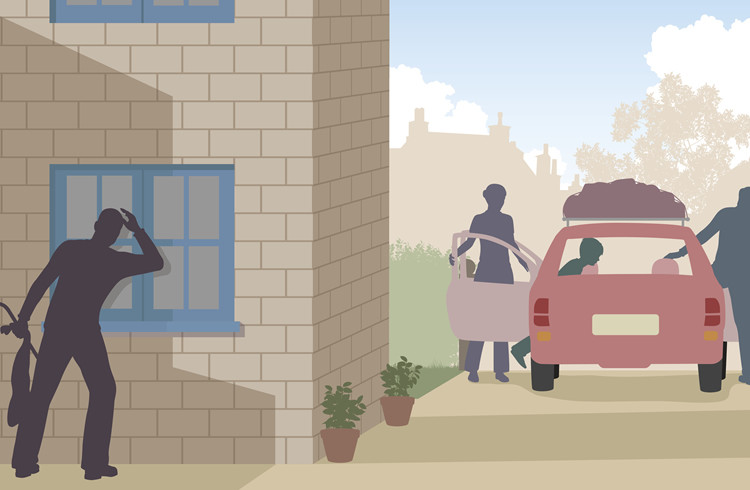 You already know what identity theft looks like. But the danger doesn't stop when you leave town. Your identity can be even more vulnerable to theft when you're traveling. You wouldn't leave your front door wide open while away, so it's just as important to lock down your personal and sensitive information when traveling.
Lock Down Your Financial Information
Before departure, notify your bank that you will be traveling. They'll see activity from a new location and it may cause a red flag to pop up, thus locking down your account. Telling them when and where you will be going helps them monitor your account, especially if someone is trying to use your information somewhere else because they know you're away.
Only use secure ATMs connected to an established bank, or go straight to the teller booth to withdraw cash. It's common to find reports of skimmers on ATMs in areas heavily populated by tourists. Paying with cash is a secure way to avoid stolen credit card information, but you need to get cash somehow. Another option is to pay via smartphone or smartwatch app, however that may not be applicable depending on your personal technology and data plan.
Monitor your accounts when you get home. It's always a good idea to keep an eye on the transactions listed on your bank statement, but especially so after traveling. Log into your banking app or online statement and confirm that every transaction made was by yourself.
Secure Your Personal Technology
Limit the valuables you bring. If your personal computer is not necessary for your trip, leave it at home. Fewer valuables means less chance of theft, especially if your device saves your login information.
Don't post on social media until after you're home. Posting publicly that you're away lets thieves know that your home, where you keep your personal technology, financial records and other valuables is empty.
If you must pack your device and connect to the internet, only do so on a secure, private server. Refrain from logging into anything that requires personal information, and be sure to update your devices with antispyware and antivirus software.
General Travel Safety Tips
Have a friend or trusted neighbor check in on your house, especially if you have pets or plants that require care. They can keep an eye on any suspicious activity around the property, and thieves will see that the residence isn't totally vacant.
If having a friend monitor your property is unnecessary or not possible, have the post office hold your mail until you return. A mailbox full of unanswered mail is a goldmine for thieves; it clues in that you're away from home and there may be bills with your account information that were delivered.
Make photocopies of your passport, driver's license and debit and credit cards. Travel with a copy, leave a copy with a trusted contact at home, and email yourself a digital copy. Should anything happen to these documents during your travels, you still have access to the information on them.
Limit the information you write on your luggage tag. You don't need to put your email and home address on your tag; your name and phone number should suffice to get your bag back. Having your name, email, address and phone number is too much personal information in one spot.
Lock away important documents, either on your person or in the hotel safe. You can find bags to wear under your clothing to secure your passport and wallet. Be wary of heavily crowded areas or street performers, as those distractions give prime opportunities for pickpockets.
The dangers of identity theft can cost you everything from a credit card to your overall sense of security. If you suspect that your identity has been stolen, take action immediately. The consumer protection attorneys at Francis Mailman Soumilas, P.C. are here to help you fight back for your identity. Fill out a free case review form and call 1-877-735-8600 today.