Trucker's Rights Under the Fair Credit Reporting Act (FCRA)
Para ver este video en español, haga clic aquí.
Truckers have rights under federal law which protect them from inaccurate background or employment reports. The federal Fair Credit Reporting Act requires employers and background check companies to abide by various rules before denying a trucker a job. You should explore your rights now so that you don't allow any claims you may have to run out under the statute of limitations. 
What is a DAC Report?
The DAC or Drive-A-Check report is a background report specific to the trucking industry. Your DAC report generally contains items such as employment history, driving incidents, drug testing history, and legal issues. If you are a truck driver, you know the DAC report is one of the first things a company will look at when hiring drivers.
If your DAC Report or other Background Check contains errors, you could be denied, delayed, or even lose your truck driving job.
Here are 4 Common Background Check Errors
Mixed or Merged Accounts – Your report mistakenly reports someone else's information.
Obsolete or Outdated Information – Most adverse information is legally only allowed to report for 7 years or less.
Failure to Update – It's difficult for background check companies to keep their information up-to-date because records are constantly changing. For example, they may falsely report expunged or dismissed records, or they could report misdemeanors as felonies. Under the law, however, they must report complete, accurate, and up-to-date information at all times.
Miscellaneous Errors – Errors can take many forms, such as reporting a license as expired or misspelling a name.
Where do DAC Reports come from?
DAC Reports are provided by a company called HireRight.
What rights do truck drivers have against false employment reports?
All background check agencies must follow the Fair Credit Reporting Act (FCRA). This law protects consumers like you against background check errors in the following ways:
The background check must be complete, accurate and up-to date.
Consumers can review and dispute inaccurate information.
Employers must obtain a consumer's permission before getting a background check.
Employers must notify consumers when a job is denied or terminated due to a background check, and if taking adverse action, employers must provide a copy of the report and a summary of their rights under the FCRA before taking such action.
What if my DAC Report has errors?
If you believe that you have a case against a prospective employer and/or a background check company, please contact us at 1-877-735-8600 or fill out the online form, and we will be happy to review your situation at no cost to you. We have successfully handled hundreds of these cases and if we take on your case, you pay nothing out of pocket, and we will fight to get you the money you have lost. Call or fill out our form for a free case evaluation today.
Illegal Conduct by Employers:
Each time you applied for a job requiring a background check, the employer was required to:
Notify you that the employer was ordering a background check.

Obtain your consent to the background check.

If you applied in person, notify you of any adverse employment decision (e.g. job denial) that the employer was planning to take based on the negative background check.

 

The employer must also give you the report it obtained and statement of your rights BEFORE the adverse employment decision is taken.

If you applied by mail, phone, fax or email, notify you of any adverse employment decision, the name, address, and toll-free number of the company which provided the background report and certain information about your rights WITHIN 3 DAYS of the job denial
As many background checks contain inaccurate information and as many employers routinely fail to comply with the law, consumers are often wrongfully denied jobs through no fault of their own. You have a right to recover damages against such employers.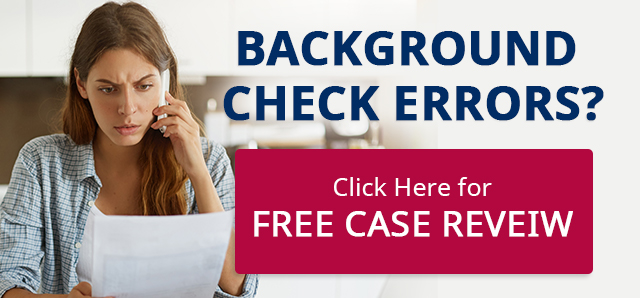 Illegal Conduct by Background Check Companies
Each time you applied for a job and the employer ran a background check on you that contained negative information, the background check company was required to:
Make sure the background check report was complete, accurate and up-to date.
Tell you that you could review and dispute the inaccurate information.
Notify you that it was providing negative background information to your employer, along with the employer's name and address, AT THE TIME it provided such information to the employer.
Many Background Check or Screening Companies fail to comply with the law, some often sending the consumer notification days, if not weeks, after the job application and denial. By then it's too late to get the job back. You have a right to recover damages against such companies. Get a Free Case Review to discuss your rights and options.