Mark Mailman Takes On Monsters
Founding partner of Francis Mailman Soumilas, P.C.
Mark Mailman is a graduate of Muhlenberg College (B.A. magna cum laude, 1991) and was inducted into Phi Beta Kappa. He earned his law degree at Temple University of Law (J.D. 1995) where he achieved the highest grade in Trial Advocacy clinic.
Despite his impressive educational record, Mailman didn't always know he wanted to be a lawyer. "I actually did not know what I wanted to do 'when I grew up' but I figured I could further my education with a law degree," he says. Also, his father was a well-respected lawyer with a keen, sharp mind. "I figured logical thinking could benefit me in life but never thought I would actually be a practicing lawyer."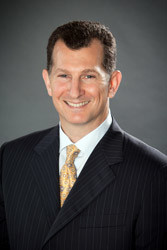 It was Mailman's love of David and Goliath stories that made consumer protection law a good fit. "The notion that I could represent an individual consumer for free and sue a corporation to correct a harm—and get paid in the process—was very appealing and has been the mission of our firm from the start," Mailman says. The firm recently celebrated their 17th year in business and Mailman is very proud of all the consumers they have helped through the years and all the unlawful business practices they have been able to change for the better.
Representing "David" isn't the only thing that drives Mailman. Having his mom die from ovarian cancer, finding out that his wife has MS, and getting cancer himself changed his outlook on life enormously. "Life is very short and you have to put everything in perspective." Mailman was lucky enough to beat cancer, and now he and his wife regularly support the Leukemia & Lymphoma Society and the National MS society. "The charities are personal to us and our lives," he says.
Mailman loves to hike, jog, play racquetball, weight lift, and travel. He also enjoys movies, but says, "When I go to movies I must see the title page of the movie or I won't watch it." He has a 2nd Degree black belt in Tae Kwon Do—which certainly must come in handy when battling Goliath, and one leftover hobby from his youth: drawing monster mazes.
Mailman is a fan of not sweating the small stuff. "Appreciate every day that you're above ground," he says. And if you want to buy him a cup of coffee—he takes it with milk, and one sugar.