Co-Founder and Partner Jim Francis Consults on Medical Debt Reporting Changes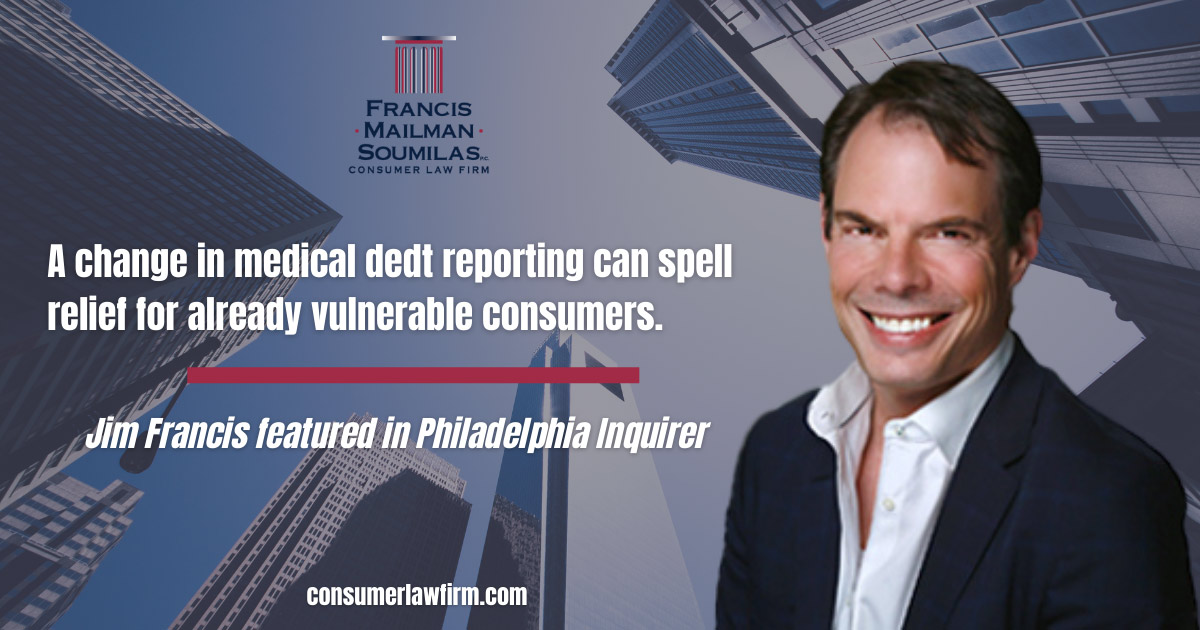 Francis Mailman Soumilas, P.C. co-founder Jim Francis recently lent his expertise to the Philadelphia Inquirer regarding the changes to medical debt reporting that took effect July 1. Experian, TransUnion, and Equifax, the three largest credit reporting agencies, announced that new and existing medical debt will now be removed from credit reports as soon as it is paid rather than the previous policy of remaining on the report for six months.
In the article, "What To Know About How Medical Debt Affects Your Credit Rating," Jim explained that credit reports are used to reflect how financially responsible an individual may be through payment records for items such as car or mortgage loans. Recent research shows that the majority of medical debt a person carries is not an accurate reflection of one's financial responsibility and lowers credit ratings unfairly.
To learn more about the credit reporting changes and how they may affect you, read the article here.
If you are experiencing hardship and lower credit ratings due to medical debt on your credit report, our consumer medical debt lawyers at Francis Mailman Soumilas, P.C. can help. Call us at 215-735-8600 or contact us online to schedule a free consultation. Located in Philadelphia and cities throughout the country, we serve clients nationwide.