What is Milliman IntelliScript?
Milliman is a consumer reporting agency. IntelliScript is a service they provide for insurance companies. Milliman IntelliScript collects and reports prescription drug purchases to insurance companies.
Who Uses IntelliScript Prescription History?
Medical and prescription history reports are ordered when you apply for life insurance, disability insurance, long-term care insurance, or any other supplemental health insurance. Insurance companies use medical and prescription history reports to help determine how risky it is to provide insurance to an applicant.
Milliman IntelliScript reports should only exist if an individual authorizes the release of his/her records to the insurance company and if that insurance company submitted a request to Milliman IntelliScript.
Inaccurate Milliman IntelliScript Report
Incorrect information on your Milliman IntelliScript prescription history report can happen. Errors on your report can make it impossible for you to get life insurance or supplemental health insurance. Mistakes on an IntelliScript report can also cost you in higher insurance premiums.
Common Prescription History Report Errors
The most common type of error on a prescription history report is a mixed file. A mixed file occurs when the prescriptions listed in your report belong to someone else. This happens most often to individuals with common names. Another situation that can cause inaccurate information on your report is identity theft. Prescription fraud can happen when a thief uses your insurance information and gets prescription drugs in your name.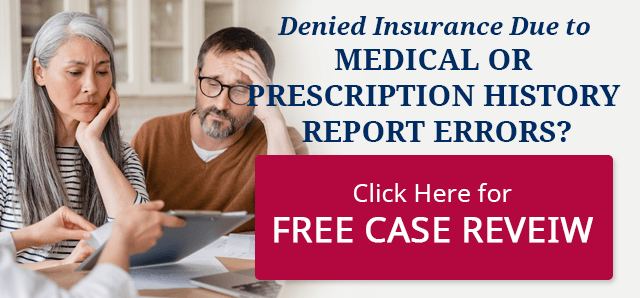 Your Rights Against Prescription Report Errors
Under the Fair Credit Reporting Act (FCRA), consumer reporting agencies must make sure the information they provide is accurate.
When a prescription history report is used to deny you insurance coverage, the insurance company must notify you. You are entitled to a free copy of the report. You should alse receive the contact information of the company that provided the report, and a summary of your rights under the FCRA.
You also have the right to dispute any errors on your report.
You have the right to sue the reporting agency for damaging errors.
Contact Information for Milliman IntelliScript
Address: P.O. Box 2223
Brookfield, Wisconsin 53008
Phone: 877-211-4816
Website: www.rxhistories.com
Milliman IntelliScript Complaints
Recent complaints and cases against Milliman IntelliScript.
Our clients were denied life insurance based on their Milliman IntelliScript report. The reports contained prescription information that belonged to other individuals. In one case, a client's IntelliScript report showed hundreds of prescriptions in her medical history that did not belong her. This lead to her being denied for supplement health insurance.
Can I Sue Milliman IntelliScript for Report Errors?
Under the Fair Credit Reporting Act you have the right to sue consumer reporting agencies for false information in your reports.
Did Milliman IntelliScript release your information without your authorization?
Did your IntelliScript prescription report contain information that did not belong to you?
Were you denied insurance due to inaccurate information in your Milliman IntelliScript Report?
Did you try to dispute errors on your report but they did not correct your information?
If have experience any of these situations, you may have a case and be able to sue in Federal Court.
Free Help from Consumer Protection Lawyers
If errors on a Milliman IntelliScript report caused you to be denied insurance, you may be entitled to damages.
The consumer protection lawyers at Francis Mailman Soumilas, P.C. are here for you. We have been fighting back against false consumer reports for over 20 years.
Assert your rights and get a free case review. Fill out the online form or call us at 1-877-735-8600 to get started.
The consultation is free. If you have a case, there is no out-of-pocket cost to you. We only get paid when you win.